Community Events:
17th Annual MS 150 - City To Shore Bike Tour

By Marvin Stewart
SJSports Staff Writer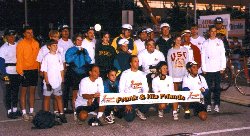 Nearly 3,400 cyclists may not be able to change the world - but they can change the lives of thousands of local residents with multiple sclerosis through their participation in the National MS Society's MS 150 City to Shore Bike Tour, Saturday and Sunday, September 27 and 28, 1997. Rideres of all ages, abilities - and disabilities - will depart on the 17th annual, 150 mile overnight tour from PATCO Woodcrest Hi-Speedline Station in Cherry Hill on Saturday, September 27 from 6 a.m. to 8 a.m., then travel to the Waterford Elementary School, stop for lunch at Hammonton Lake Park, and travel through the Tuckahoe region before arriving in Ocean City on Saturday between Noon and 2:30 p.m. The Tour makes the 75 mile return trip to Cherry Hill on Sunday, September 28 along the same route, with cyclists celebrating the completion of the ride with finish line party back at the PATCO Woodcrest Hi-Speedline Station in Cherry Hill from 12:30 p.m. to 2:30 p.m.
The two day fully catered tour is the largest overnight cycling event on the east Coast, and attracts cyclists from the entire Atlantic seaboard for its special blend of carnaraderie, personal growth and helping others. For participants, the MS 150 offers well stocked rest stops, support for weary riders, mechanical and first aide support and route and safety marshalls. Cyclists also enjoy an evening dinner and awards ceremony at the Ocean City Tabernacle, 5th and Wesley avenue in Ocean City on Saturday eveing, breakfast Sunday morning at the Ocean City Music Pier and other amenities.
To participate, cyclists must raise at least $150 in pledge donations for the fight against multiple sclerosis. To raise the funds, most ask friends, family members and co-workers to contribute a small amount for each mile completed or a flat donation for the entire ride. All cyclists receive a certificate of recognition for completeing the ride with the top fund raisers eligible for a variety of special awards, including cycling clothing and equipment, gift certificates and trips for two.
Monies raised through the MS 150 City to Shore Bike Tour provide local services and programs for more than 7,500 area residents with multiple sclerosis and their families, as well as funding for national and international research efforts. In its 50-plus years of service, the National MS Society has supported more MS research then anyother agency in the world, for a total of $200 million since 1946.
Each year, the organization invest over $15 million to fuel the efforts of nearly 200 MS researchers nationwide and abroad. This investment is paying off in significant advancements toward finding treatments and in better diagnosis, rehabilitation and symptomatic therapy for people with MS and in bringing a cure ever closer.
For information on how to participate in next years MS 150 City to Shore Bike Tour or in the fight against MS:
Philadelphia Area 215 271 1500
New Jersey Area 609 858 6900
Lehigh Valley Area 610 395 7230
Reading Area 610 376 1309
Toll Free 800 548 4611
Fax 215 271 6122
email pac@nmss.org