High School Swimming:
Mustangs Break THREE School Records !!!
By Rod Smith
SJSports Staff Writer
Mon 12/22 - GTT - Triton vs. Cumberland
Coach Gorsky was ecstatic at his swimmers' performance against an undermanned Cumberland team in the Mustangs 117-68 victory. Three school records were toppled in the 200 medley relay, the 200 IM and the 500 free. Helen Schumacher won the 200 IM with a new record of 2:25.74; Greg Heubach won the 500 free and set a new school mark at 5:45.17; and the medley relay team of Owen Gigliot, Jodi Ambrose, Jered Stanley and John Hugan set the new record at 2:04.85, knocking over 3 seconds off the old mark.
Last year's division-winning Mustangs are on course again this year with many returning experienced swimmers as well as tremendous depth among talented newcomers.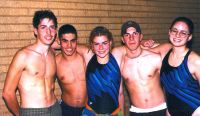 Triton swimmers Erik Persichetti, Jesse Greco, Helen Schumacher, Greg Smith & April Flager