High School Swimming:
Township dispatches Camden Catholic
By Rod Smith
SJSports Staff Writer
Mon 12/22 - GTT - Washington Twp. vs. Camden Catholic
Washington Township's second meet of the season saw the Minutemen at full strength after an opening loss to Triton at which several premier Twp. swimmers, tapering for an upcoming USS meet, did not swim. Tonight, however, the Minutemen avenged their reputation as last year's Division Champs and soundly dispatched a strong Camden Catholic team 105-80.
The opening medley relay team of Ryan Hawn, Brett Smith, Adam Beal, and Jeff Brown started strong for Township, finishing first in a time of 1:43.23. Hahn repeated with victories in the 200 IM and 100 back, while Zack Bartelt captured the 50 free and tied in the 100 free. Brett Smith aced the 100 breast at 1:04.86, one of the fasted breast finishes in South Jersey yet this season.

Wash. Twp. diver Pat Kelly in full layout during back dive.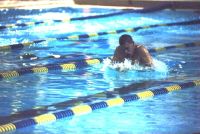 Wash. Twp's Brett Smith finishes 100 breaststroke half pool ahead of field at 1:04.86.