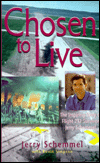 From the book with Kevin Simpson: On July 19, 1999, Jerry Schemmel, then deputy commissioner of the Continental Basketball Association and Jay Ramsdell, commissioner of the league, boarded United Airlines Flight 232 in Denver, bound for Chicago. An hour into the flight, the number two engine in their DC-10 aircraft exploded, causing a complete hydraulic failure. For the next 45 minutes. the cockpit crew, commanded by Captain Al Haynes, flew the crippled jumbo jet through the completely untrained and unprecedented procedure of using engine thrust. After miraculously making it to the airport, the crew tried an emergency landing in Sioux City, Iowa. With almost no control of the aircraft upon landing, the plane slammed into the runway and crashed violently, with most of its pieces ending up in an adjacent cornfield. Of the 296 on board, 112 died, including Jay Ramsdell. While nearly everyone around him died, Schemmel was able to escape the burning cabin. He then reentered the wreckage and rescued an 11 month old baby girl.
Jerry Schemmel has been "The Voice of the Denver Nuggets" since 1992. "Chosen To Live" is the story of this history making airline disaster and Jerry Schemmel's subsequent struggle with the death of his best friend and with the rest of the aftermath of the tragedy. It is a story of one human being God decided to spare. It is a plane crash survivor's battle to fly again, to move on with his life and realize his dream of being an NBA broadcaster. It is the story of a man who moved from tragedy to triumph. "Chosen To Live" is a story of hope.
Jerry Schemmel appears courtesy of Barber & Associates.