Cherry Hill West HS Swim Team Cherry Hill, NJ
*****New photos - click article/photo box below*****
---
Click on
West's 1996-1997 Swim Schedule
| | | | | |
| --- | --- | --- | --- | --- |
| DATE | OPPONENT | TIME | POOL | SCORE |
| | | | | |
| | | | | |
| | | | | |
| | | | | |
| | | | | |
| | | | | |
| | | | | |
| | | | | |
| | | | | |
| | | | | |
| | | | | |
| | | | | |
| | | | | |
| | | | | |
Meet 6 - Jan 14th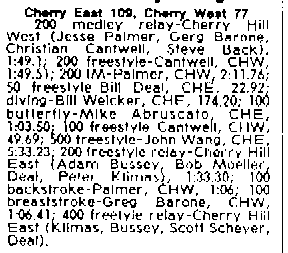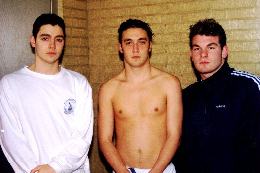 1998 West captains: Chris Cantwell, Greg Barone, Jesse Palmer
SWIM MEET OF THE WEEK
EAST MEETS WEST !!!
Cherry Hill East teams remain undefeated.
GTT - Wed. Jan.14 - Double-dual
All the ingredients of top-notch competition were evident - long-standing arch-rivalry, standing room only, packed decks, top- ranked swimmers from both teams. All the makings for a meet where 4th and 5th places could be determining factors as East Coach Fred Knouse noted: "Every time counts today." And it was ALL chwbRRY HILL fighting for power points.
Both girls' teams came in undefeated, East at 4-0 and West with a 5-0 record. But in the end, the East girls' depth proved to be the overwhelming factor in their 101-85 victory. East captured the top two places in the 200 free and the 200 IM while West doulbled in the 100 free and West's premier diver, Allison Mays won diving with over 220 points. The final events were evidence of the determination of the women as the finish of the 100 breast looked like a dead heat for four swimmers as Erica Weitz prevailed in a 1:11.93. Kristel Haesler had a strong night with wins in the IM and 500 free. Haesler also anchored the 400 free relay in what was a virtual one-on-one swimoff as the fourth swimmers entered the water together.
West's Lady Lions unfortunately suffered a first defeat but availed themselves proud and strong , capturing the opening medley relay in a very quick 1:55.07 by a team of all top-ranked swimmers in Jannelle Ritchie, Jesse Crick, Kate Patrizzi and Katie Kopil. West also doubled in the 100 free, won by #1 ranked Kopil who also took the 50 free. The 100 back was won in 1:02.25 by #1 ranked Ritchie.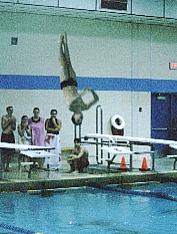 West diver John Jennings
The boys' meet was a battle of outstanding swimmers, ending with similar results as a deeper East team arrived undefeated and prevailed 109-77 over the West boys who came in at 3-3.
West went out strong as captains Jesse Palmer, Chris Cantwell and Greg Barone joined Steve Back in winning the medley relay. Cantwell followed by winning both the 100 & 200 free while Palmer captured the 200 IM and Barone took the 100 breast.
East countered with victories by Bill Deal in the 50 free, Mike Asbrucato in the 100 fly and John Wang in the 500 free. A strong finishing relay combined with a ton of 2nd and 3rd places put the victory points in East's column. East remains undefeated now at 6-0