Triton High School Swim Team Runnemede, NJ
Congratulations Helen Schumacher, Courier-Post Swimmer of the Week (Jan. 9th)
---
"The Mustangs" coached by Mr. Mark Gorsky
Last season record: 6-0 Conference & 8-8 Overall
***1996-97 Atlantic Div. Champions ***
Click on
Triton Mustangs 1996-1997 Swim Schedule
| | | |
| --- | --- | --- |
| DATE | OPPONENT | SCORE |
| | Triton vs WASH.Twp. | 118-65 -W |
| | Triton vs East | -L |
| | Triton vs GTT | -W |
| | Triton vs Cumberland | 117-68 -W |
| | Triton vs Highland | -W |
| | Triton vs Camden Catholic | 102-65 -W |
| | Triton vs Cherokee | -W |
| | Triton vs W.Deptford | |
| 1/28 | Triton vs Shawnee | |
| 2/4 | Triton vs Haddon Twp | |
| 2/7 | Triton vs Eastern | 95-91 -W |
| 2/12 | Triton vs West | 67-119 -L |
| | | |
Seniors

Juniors

Mike Albano fly/free

Scott Bullers breast/free

Jesse Greco free

Stephe Grover free

Allison Hastings free

Gregg Heubach free

Jason Katz breast/IM

Mike Maitag fly/free

**Nick Moroni free/back

Eric Persichetti back/free

**Stephen Schumacher free

Altson Barbera free/breast

Pat Duffy breast/free

April Flagler free

Jade Fisher diver

Karen Gottleib fly/IM

Christina Kohout diver

Helen Schumacher IM/breast/dist free

Greg Smith back/free

Jamie Wallace back/free

Sophomores

Frosh (con't)

Jessica Adams free

Andy Burns breast/free

Mike Carothers free

Melissa Clements free/back

Kevin Emmons fly/IM

Claudine Evangelista diver

Cynthia Moore fly/breast

Lauren Musmeci fly/back

Michelle Traczyk back/fly

Frosh

Anthony Albano free

Shannon Bullers breast/free

Amy Burrini free

Michael Carfagno free

Mark Casalunova breast/fly

Drew Ciccotelli back/breast

Eric Cimorelli breast/free

Brain Coll back/free

Mike DiCamillo free

Liz Fiorini back/free

Heather Flenard breast/fly

Tracy Heckler diver

Cristin MacDonald diver

Rita Massanova back/fly

Jason McGlinchey free

Laurie Moore diver

Mike Moroni free

Steve Ramoudos breast
Mustangs Break THREE School Records !!!
Mon 12/22 - GTT - vs Cumberland Regional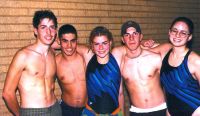 Coach Gorsky was ecstatic at his swimmers' performance against an undermanned Cumberland team in the Mustangs 117-68 victory. Three school records were topped in the 200 medley relay, the 200 IM and the 500 free. Helen Schumacher won the 200 IM with a new record of 2:25.74; Schumacher also won the 500 free and set a new school mark at 5:57; and the medley relay team of Jamie Wallace, Helen Schumacher, Karen Gottlep, and April Flager set the new record at 2:04.85, knocking over 3 seconds off the old mark.