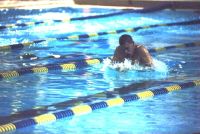 High School Swimming:
Township dispatches Camden Catholic
By Rod Smith
SJSports Staff Writer
Mon 12/22 - GTT - Washington Twp. vs. Camden Catholic
Washington Township's second meet of the season saw the Minutemen at full strength after an opening loss to Triton at which several premier Twp. swimmers, tapering for an upcoming USS meet, did not swim. Tonight, however, the Minutemen avenged their reputation as last year's Division Champs and soundly dispatched a strong Camden Catholic team 105-80.
Click Here To Continue
High School Wrestling:
Edgewood Pins Down Their Opener
Saturday, December 20, 1997
By Art Redd
SJSports Staff Writer
With the new wrestling season under way, getting a victory on opening day would surely be a good start. After all the hard work training and preparation for these wrestlers, it was their chance to go into the 1998 wrestling season with a opponent instead of a teammate.
Edgewood hosted St. Joseph in a non-league match and gave the home crowd alot to cheer for with a 42-26 victory. This was a good start for Coach Jim Ingles and his Eagles whose team finished with a 14-5 overall record last year.
Click Here To Continue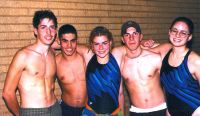 High School Swimming:
Mustangs Break THREE School Records !!!
By Rod Smith
SJSports Staff Writer
Mon 12/22 - GTT - Triton vs. Cumberland
Coach Gorsky was ecstatic at his swimmers' performance against an undermanned Cumberland team in the Mustangs 117-68 victory. Three school records were toppled in the 200 medley relay, the 200 IM and the 500 free. Helen Schumacher won the 200 IM with a new record of 2:25.74; Greg Heubach won the 500 free and set a new school mark at 5:45.17; and the medley relay team of Owen Gigliot, Jodi Ambrose, Jered Stanley and John Hugan set the new record at 2:04.85, knocking over 3 seconds off the old mark.
Click Here To Continue